Ministry and Music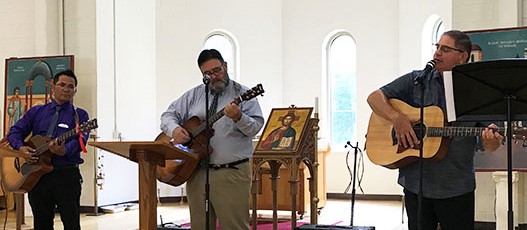 What do you get when you cross music, faith, and good humor? Well, at Angelic Health you get the "Three Chaplains". Their name is a lighthearted take on the famous Three Tenors, a popular operatic singing trio that included Plácido Domingo, José Carras, and Luciano Pavarotti. Angelic's Three Chaplains include Ken Jackson, Fred Ruggiano, and Mark Haokip, and while they don't sing opera, these spiritual support counselors use their voices to minister to hospice patients. Each bring with them their own unique nature and culture, but all share a common mission to provide spiritual support to those in need. The music has become part of their ministry.
"God created us to be instruments with the ability to sing and make music," explained Mark Haokip, of Woodstown. "Music and song occupy an important part of our relationship with God. It brings a connection and healing to the soul. I believe we are spiritual beings at the core blessed with human experiences, and our physical existence is temporary and transitional in nature. Music and singing soothes the soul, mind and body and it is used in worship and praise to God countless times in Scripture. It is the most effective way to communicate and make that spiritual connection to be at home and feel at home at the end of physical life." Haokip is part of Christian Missionary Alliance Church in Swedesboro.
"Today, music and singing occupies a very important part of the culture," he explains. "We sing when we are happy as well as when we are sad. Church music and other group songs focus mostly on heaven and the longing of a 'perfect everything' in heaven."
Pastor Ken Jackson from Franklinville sings, plays guitar, and has a quick and uplifting wit. He uses both his voice and his humor to brighten the days of Angelic Hospice patients.
"I think we need joy and to laugh," said Jackson, 'a merry heart does good like medicine' according to Solomon, and he was pretty wise."
Jackson has extensive experience as a pastor in churches in Pennsylvania, New Jersey, and Nairobi, Kenya, and was a chaplain at Ranch Hope, a residential behavioral development program. He enjoys song writing and uses his musical talents to give comfort to hospice patients.
"Music is the key to one's soul," explained Chaplain Fred Ruggiano, "God created it, and humanity embraces it!"
Ruggiano estimates that over 90% of Angelic's hospice patients enjoy live music in a variety of forms from hymns to conventional music. All of it opens the door for enrichment, and relationship between Chaplain and patient.
Ruggiano, from Pennsville, has been a musician and singer for over 50 years. He took formal music lessons from ages 10 to 17, playing guitar and singing different genres and performing in churches, colleges, and at Christian events. He has been writing spiritual, praise, and worship music for over 30 years.
Individually these musical chaplains use their voices and talents to minister to Angelic Hospice patients but come together as The Singing Angelic Chaplains to entertain groups of people at outdoor concerts in nursing facilities, or at community events. Their inspirational performances and messages are also available for everyone to enjoy and benefit from on YouTube at www.Angelic.health under Community Resources.