Finding Purpose Beyond the Uniform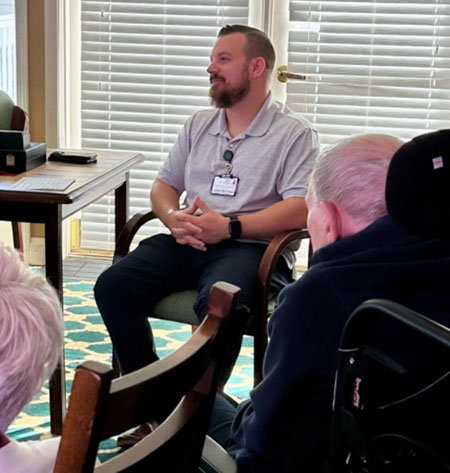 When thinking of military service, we often envision the brave individuals who dedicate their lives to protecting our country. These individuals courageously embark on a journey that transforms their lives in profound ways. One such individual is John Prutting of Marmora NJ a former U.S. Air Force security forces team member who served in Operation Enduring Freedom (OEF). Today, Prutting serves as the Veterans Outreach Coordinator (VOC) for Angelic Health.
As a child, Prutting felt like he had a call to service. Following the tragic events of 9-11 his call to duty only became more intense. The need to make a difference and protect his fellow citizens became his driving force. "Once I completed high school, I knew in my heart that I had to serve." Prutting said who joined the service in 2010.
Military experience has a way of shaping one's perspective, particularly when it comes to understanding the unique challenges faced by veterans. Veterans like Prutting are exposed to physical and mental demands that most civilians may never encounter. "I don't think I really understood that when I was younger and still serving," It wasn't until he started working with other veterans that he realized the importance of the tailoring their care, "Once I started working with our veterans, it hit me that our care has to be almost specific to where and when we served," he said.
Upon leaving the military, like most veterans, Prutting found himself uncertain about the path ahead. However, he still felt the strong desire to serve and help others. This led him to a career in healthcare, which aided his passion for assisting fellow veterans.
"As the VOC, I am a man of many hats." Within his reach, Prutting spends time with veterans and their families, hosting Veteran-to-Veteran cafes around New Jersey, fostering connections and providing support. He assists veterans in navigating Veterans Affairs (VA) including accessing the services and benefits they have earned. He also works closely with accredited veteran service officers to ensure that veterans receive the assistance they need.
"I truly believe in a veteran-to-veteran connection, especially since I've had the opportunity to work with so many incredible veterans." Prutting's military background allows him to connect with the Angelic Health Hospice veteran patients on a deeper level. He understands the unspoken bond that exists among veterans, this connection helps foster mutual trust and empathy. Prutting advocates for veterans' needs and ensure they receive the care they deserve.
In his role at Angelic Health, Prutting keeps a close eye on the initiatives and programs implemented by the Veterans Health Administration and the New Jersey Division of Military and Veterans Affairs. By staying up to date, he ensures that his clients receive the most relevant and effective care available.
Angelic Health, through their commitment to veterans, offers a range of resources to support the needs of these brave individuals. As proud members of the We Honor Veterans program, Angelic Health adheres to the highest standards of care for veterans. Angelic aids veterans in navigating the VA system, connecting veterans with each other and service officers, and offering a compassionate ear to listen.
For Prutting, the most rewarding aspect of his role is witnessing the impact their veteran's program has on his patients. Each interaction with a veteran leaves a long-lasting impression for him. Prutting recalls spending several hours with a veteran. The duo exchanged stories and provided each other with the support they both needed. The positive impact the conversation had on the veteran was immeasurable and left a mark on Prutting's heart.
To veterans who may be facing the challenges of transitioning to civilian life, Prutting offers a powerful piece of advice: "It's not always the load that weighs you down, it's the way you carry it." By acknowledging the weight, you carry and seeking support when needed, you can find the strength and resilience to overcome the obstacles you may face.
While working with veterans is his passion, as a father of two young children he is a busy dad, serving as a board member of the Upper Township Lacrosse and a team coach.