Angelic Health - By Your Side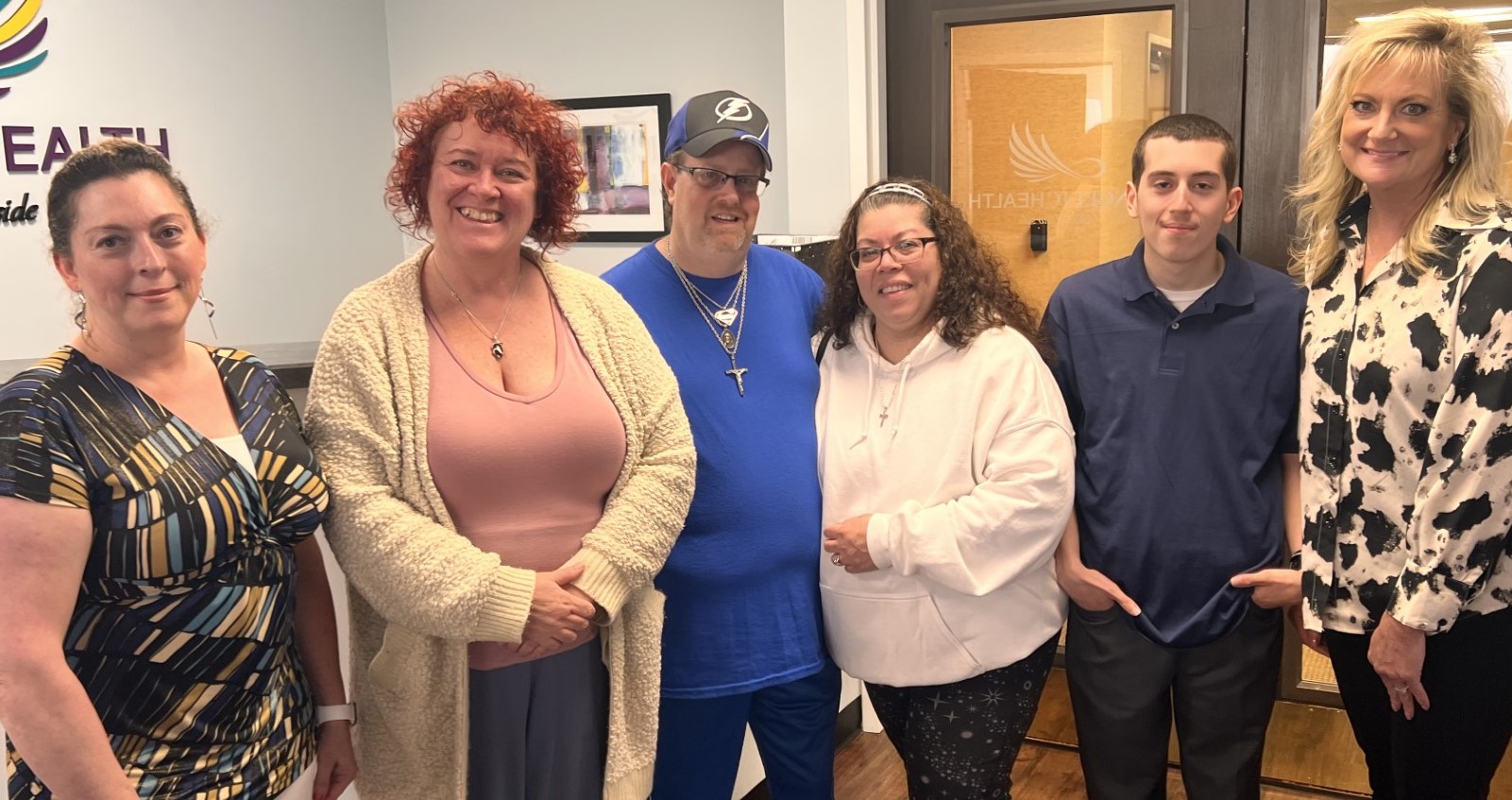 Shown here with the Siebel family are Angelic Health staff Social Worker Sandra Gomez, Hospice Administrator Tracy Fooks, MSW, LCSW; Tony Siebel, Maria Siebel, T.J. Siebel, and Patient Care Manager Melissa Douglas, RN.
Angelic, By Your Side was More Than a Tag Line for this Family.
It was a beautiful spring day when Tony, Maria, and T.J. Siebel stopped in Angelic Health's West Atlantic City office. They could have written a letter, but they wanted to visit in-person to express their gratitude to the staff for their role in the care of their loved one -- 81-year-old Norma Siebel of Egg Harbor City who only days earlier passed.
"Our experience with Angelic was amazing from the moment they walked in the door," said Maria Siebel, Norma's daughter-in-law.
Norma's family described her as a people-person who was a lovely, strong, and sociable woman and an active member of her church. It was important to Norma that she pass comfortably at her apartment, surrounded by her friends and family, so after a brief hospitalization she was admitted to Angelic Health Hospice Care.
In the weeks leading up to her passing, Angelic Health provided the family with a support team of nurses, a home health aide, social worker, and a spiritual care coordinator to facilitate her wishes.
"Her favorite color was purple. When the nurses walked in wearing all purple (Angelic's uniform brand color.) we knew that God had placed us with Angelic for a reason." Maria said. As the primary caregiver to her mother-in-law, Maria worked closely with the Angelic staff and very much appreciated their respectful and caring support, as well as their education regarding her mother-in-law's condition. Nurses worked closely with the family to inform them how to take medical logs, give medicine, and ensure that Norma was comfortable, "We are so thankful for Angelic's services, and we appreciate the care the staff gave my mom very much," said Norma's son Tony Siebel.
Grandson T.J. and Norma were close, and as her condition deteriorated, his courage grew. "I did what I could to make her happy and keep her as healthy as possible." T.J. said. The staff at Angelic unknowingly inspired him to pursue an education in medicine. He hopes to one day become a medical assistant and give back the same level of care the staff at Angelic gave his grandmother.
Norma passed peacefully at home surrounded by her family, as she wanted. "At Angelic Health it is important to us that we honor the wishes of our patients," said Angelic Hospice Administrator Tracy Fooks, LCSW. "Maintaining someone's dignity at their passing truly is a gift of honor and respectability."