Angelic Health named National Best Practice Hospice Provider for Caregiver Experience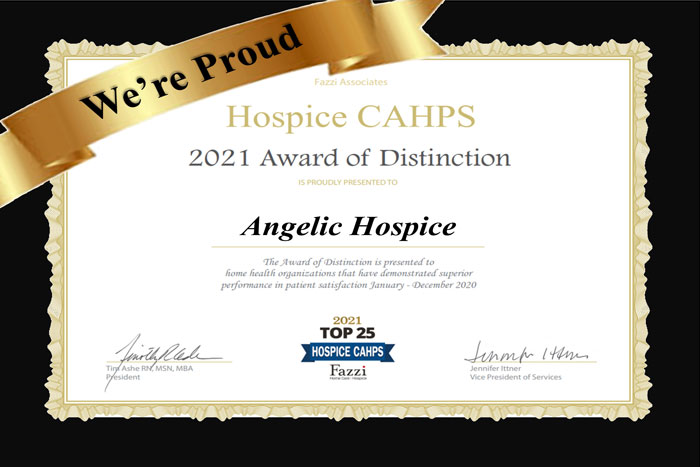 Angelic Hospice has been named a national best practice agency by Fazzi Associates for overall satisfaction of care and likelihood of recommending. "National best practice agencies are proven leaders and have excelled in one of the most important measures of an agency's quality program - caregiver experience. This is a significant accomplishment that you should be incredibly proud of," said Hospice Consumer Assessment of Healthcare Providers and Systems (CAHPS) Project Director Jennifer Ittner. Fazzi is an independent national consulting, education, and best practice research firm that specializes in serving the home health and hospice industry. Angelic Hospice utilizes Fazzi to survey family caregiver regarding Angelic services.
"Our goal is always to provide exceptional service to our patients and their families," explained Kristine Councillor, RN BSN, director of corporate compliance and quality assurance at Angelic Health.
Based on a comparative analysis of hospice agencies involved in Fazzi Associates' Hospice CAHPS system for the past year, Angelic Hospice results for the "Overall Satisfaction" or "Likelihood of Recommending" survey questions place Angelic Hospice in the top 25% of Fazzi's National Hospice CAHPS database for 2020. "This level of success is commendable and deserving of recognition, " said Ittner, "Fazzi Associates is pleased to present Angelic Hospice with CAHPS Award of Distinction which is presented to hospice organizations that have demonstrated superior performance."
"Caring for our hospice patients is a passion, " said Angelic Health CEO Dan Mikus, MSW, MBA. "We are most honored to receive this recognition, and proud of our staff for their dedication to quality care."