Hospice Volunteer Finds Giving Back and Daily Walks Helped Her Beat Breast Cancer — Twice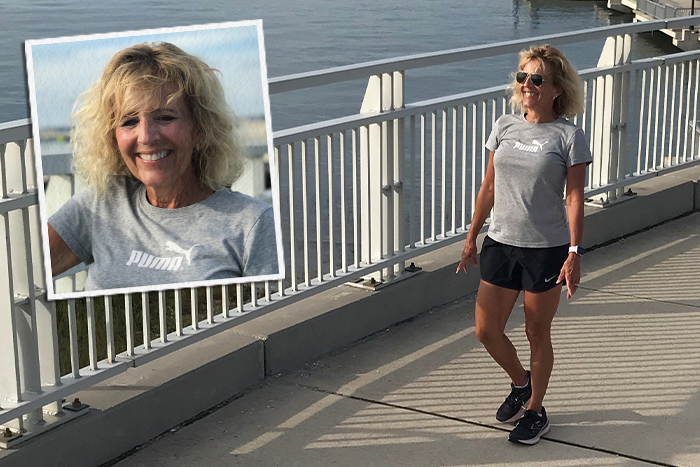 Kathryn Baruffi feels blessed when she walks over the Ocean City bridge. The marsh and bay vistas are inspiring. "I think of them as my serenity walks," she explains.
Walking is great exercise, but for Kathryn, now 61, it is also a time to be thankful. In February 2006 she found a lump in her breast. Mammogram, ultrasound, biopsy, and a breast cancer diagnosis were followed by surgery, chemo, radiation plus five years of tamoxifen treatment. "I was shocked and scared because I had three young children at the time," she recalls. Yet, amidst this fear she also found joy. "One of my favorite days was wig shopping with friends. We had Bloody Mary's… and went," she said. "Had a lot of fun that day. I bought a straight hair wig. I'd always wanted straight hair."
There were also days where she experienced bouts of extreme fatigue. "I remember thinking if the house caught on fire, I would never be able to get out because I was so tired," she said. Yet throughout her treatment this wife, mom, and registered nurse, moved forward and only eight months after diagnosis participated in her first Susan Komen three-day 60 mile walk that October. "Talk about feeling great," she beamed, "I felt like I conquered!"
Negative genetic testing eased her mind. But she was also vigilant about her annual mammograms and seeing her oncologist. "I did not dwell on things especially as the milestones increased," she said.
Then came an evening in October of 2020. Kathryn and her husband Tom where home when she received a call from her oncologist following her annual mammogram. "As soon as I saw her name on my phone, I knew. I had already decided what my plan was going to be. I knew I needed a mastectomy; I was having the double mastectomy."
"I couldn't have been more confident in my doctors," she said of her surgical experience at Cooper/MD Anderson. Just a few weeks into January of 2021, Kathryn had a double mastectomy, followed by reconstructive surgery in late summer. "I got great support from my children Lauren, Matt and Ryan. They were awesome," she said. "I feel great. I feel relieved. I feel lucky, healthy and happy." she said.
While some may have concentrated on their own healing, during this time Kathryn become an Angelic Hospice volunteer, and says that giving back has helped fuel her recovery. "I am committed to this family for as long as they need me," she says of her hospice volunteering. "Being an empty nester now, I have the time. I also am really fortunate to be in my current position and wanted to give back," she explains noting that an experience with the hospice care of her sister-in-law years ago impressed and stuck with her. "If I could brighten someone's day for a little, like they did, then I should," she said recalling the positivity and kindness shown by hospice staff to her brother's family.
Today Kathryn is attentive about her own health. "I am my best advocate," she says. So, what advice does she give others facing a breast cancer diagnosis? "Reach out. Don't be shy about asking for help or even to be left alone," she explains. "People love to hear success stories. Make yours one of them. "