Hospice Patients and Family Benefit from Music Therapy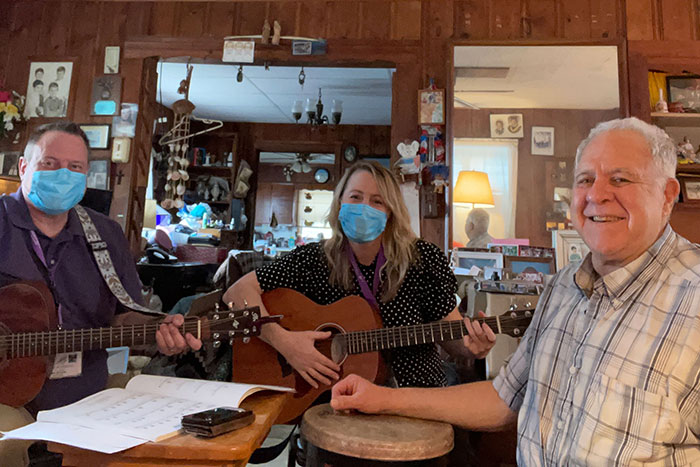 Our goal is to provide our patients with the best quality of life possible, and to support the family during such challenging and difficult times. It is the basis for everything we do.
Angelic Health music intern volunteer Mike Skalski and Music Therapist Karen Melita, have regular music therapy sessions with Mike Bagnell for bereavement. He now incorporates song into this daily routine. Mike's mom Betty Bagnell passed in 2021.
Do you smile and sing along when you hear an old favorite song on the radio? Most of us find that music takes us back to more carefree days. But did you know that tapping your foot or singing to a much-loved tune not only brings you joy but can also have great health benefits? In fact, music therapy is used in healthcare to improve mood and reduce pain.
"Music therapists may be accomplished singers and musicians, but their purpose is not to entertain," explains Angelic Health Hospice Music Therapist Karen Melita, MMT, MT- BC.
Although making music is enjoyable, music therapy goes deeper, offering a purposeful value to listening to music, playing an instrument, or singing a song.
"Music therapy provides a way to meet the wide-ranging emotional needs of individuals, and to help provide comfort and improve quality of life," Melita said.
In hospice care, music therapy is used to treat the psychological impact of a terminal diagnosis, which can include shock and anger by both the patient and family members, to fear of death and loss of independence in later stages. Music therapy in bereavement supports the scope of emotions that can surface after loss.
"Music therapy can be used as a vehicle to communicate the vulnerable and intense feelings that often arise," explained Melita, "It can create a safe space to convey uncomfortable feelings, as well as be a place for joy, reminiscence, and laughter."
Mike Bagnell is receiving music therapy through Angelic Health as part of hospice bereavement service following the death of his brother James and mother Betty earlier this year. His mother also received music therapy as a part of her hospice care.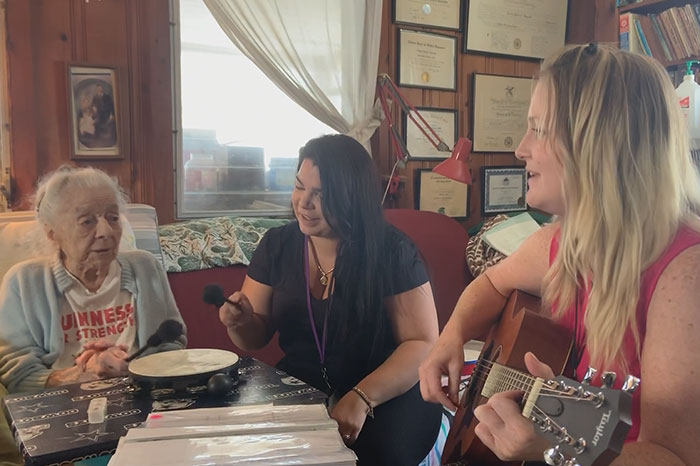 Music Therapy Heals the Soul For Angelic Health Patients
As an Angelic Hospice patient, the late Betty Bagnell received music therapy which improved her mood and helped her sleep. . "She absolutely loved it, " said her son Mike. "She would get really involved and would be one big smile. She would remain either upbeat and alert for a while afterwards, or she would fall right asleep." She is shown here with music Angelic Music Therapist Tori Baccari and Karen Melita.
"She absolutely loved it, he recalled. "She would get really involved and would be one big smile. She would remain either upbeat and alert for a while afterwards, or she would fall right asleep."
For Bagnell, having bereavement music therapy has helped him through the loss of his family members. "It helps keep a little bit of Ma in the house," he said. "I enjoy the sessions a lot and look forward to them."
He now includes music into his morning routine each day, using songs as prayer. "My day starts with singing "How Great Thou Art", "The Old Rugged Cross", and "Amazing Grace," he explains. "I am now incorporating Christmas Carols into the day. I never thought I could sing, but now I'm getting into it."