Hospice Volunteer has cold nose and warm heart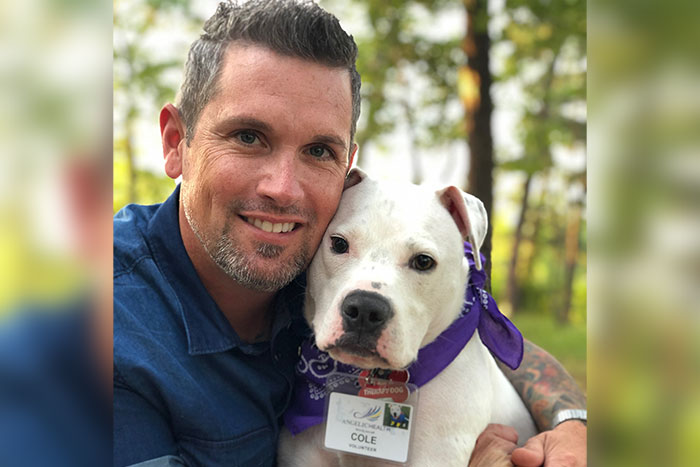 Cole entered the doors at Angelic Health Palliative and Hospice Care with a smile and a confident stride. He made himself at home as he was introduced to the staff who gathered around him. They all wanted to meet him, and Cole, too, was looking forward to becoming a hospice volunteer and visiting patients. With him was his best friend and adopted dad, Chris, who also was becoming an Angelic Health Hospice Volunteer. The two share a special bond and a common mission… making a difference and helping others. They work as a team, and even have a name-- Team Cole. Both are kind and giving, but Cole is different…he has four legs… and is deaf.
Looking to adopt a dog, Chris Hannah, of Millville, was perusing the South Jersey Regional Animal Shelter's website when he spotted an adorable, 5-month-old American Bulldog/Staffordshire mix and fell in love. The puppy was labeled "special needs" but Chris recalls all he saw was a "special puppy." Since that day in April of 2017 Hannah and his new best friend quickly began a journey bringing joy to the world. Since passing his therapy dog certification, Cole has traveled to countless schools in the tristate area performing assemblies about the Team Cole Project, which focuses on accepting everyone just the way they are and how a disability is not an inability. During the school year, Cole works five days a week as a school therapy dog with Chris, his music teacher dad at Dr. William Mennies Elementary School in Vineland.
"I initially adopted Cole through the inspiration of my nephew, Kevin, who is deaf. Adopting Cole was the perfect decision from day one," said Hannah.
Because Cole cannot learn commands like other pups, Hannah taught him sign language shortly after adoption. "My nephew began teaching us signs for him right away. As Cole began formal training, we modified American Sign Language (ASL) to teach him the commands," Hannah explained. Cole then trained for several months to prepare for his therapy certification and worked daily on reviewing and learning new things.
Soon turning 12 years old, Hannah's nephew, Kevin was 9 at the time Cole was adopted and the two instantly became the best of friends. "I've always noticed something special about my nephew," Hannah recalled. "In a day and age when kids are growing up too fast, afraid of the judgement of their peers, Kevin has always held true to who he is. He knows that he is different than others, but rather than struggling with it, he loves who he is. Cole and Kevin prove that a disability can become a superpower. This is something that the world can use is a little more acceptance."
A local celebrity, Cole and Kevin were the inspiration behind a comic book that is now being developed into a coloring book. Last year Hannah' students collaborated on "Captain Cochlear and Maestro Mutt," a story featuring Cole and Kevin as acceptance promoting superheroes. Cole was also the first canine to be honored with the Philadelphia Phillies All-Star Teacher Award this spring; was named the official mascot for the NJ Veterans Memorial Home in Vineland, receiving a Presidential Silver Service Award for volunteer work; and was the South Jersey Regional Animal Shelter Dog of the Year.
Cole's naturally perceptive sensitivity allows him to know exactly what to do to make someone feel better. During his weekly visits to patients at the Veteran's home, Hannah has seen a very special bond between Cole and seniors who relate to his overcoming of a disability. "They get a sparkle in their eyes during his visits; and the love is reciprocated from Cole," said Hannah who noted that some of patients on hospice care kept pictures of Cole close to their bedside along with photos of their families. "On two recent occasions those Veterans passed in a matter of hours after petting Cole one final time," he said. "This made the decision to volunteer for Angelic Health Hospice Care as pet therapy volunteers an easy transition. There is something unique and special about the bond and comfort Cole brings."
One can't help noticing the irony that Hannah is a musician and music teacher, and Cole is deaf. In fact, Cole's name was inspired by the movie "Mr. Holland's Opus". The film is about a music teacher who has a deaf son whom he named Cole, after the great American jazz saxophonist and composer John Coltrane. "Since I'm a music teacher, and Cole is my deaf son, we thought the name was fitting," explained Hannah.
"Chris and Cole are a match made in Heaven and our patients are so blessed to connect with this duo," said Julie Mullan, hospice volunteer coordinator at Angelic Health. "The joy, peace, and comfort that they bring to all people will help mend the brokenness that is evident in our world today. They have made an impact that instills hope, insight, and compassion in all who are touched by their untiring service and dedication. Chris is a teacher by trade, and so is Cole. Just watch him and see for yourself."
Cole's caring nature reminds Hannah of his niece who died at the age of 12 from complications of Down Syndrome. "She spread love everywhere she went, and we lost her too soon," Hannah recalls adding that the family notices that Cole bring others the same joy she did… and see him as an earth angel sent from above.
"It's difficult to say one thing I love most about Cole. However, the joy I see him bring to others is a gift," said Hannah. "He brings a very unique sense of comfort, companionship, and inspiration to those he meets. I do believe that Cole understands his mission." Eager to perform his duties as a therapy dog with students at Meenies Elementary School, Cole has a keen instinct for choosing those who need his love, and a boost of "Cole Confidence" the most. He picks that student to sit with, lay his head against, or just be near them. He brings that same peace and comfort to the patients he visits.
On a visit to a nursing facility a patient unknowingly ran over Cole's tail. Other dogs may have barked in pain, or reacted aggressively, but Cole simply got up and walked beside her and escorted her to her room.
Bringing a message of inclusion and acceptance to the community is a labor of love, and a personal one. Hannah himself has faced prejudgment, getting harsh looks and comments about his tattoos. "As far as the tattoos, they are a part of our story, too. People have judged Cole and I based on our appearances; a tattooed man walking his pitbull," he said. "Little do they know that I am an elementary school music teacher who sits on the floor singing songs to children all day, and Cole is likely the friendliest creature you could ever meet. Don't judge a person, or a dog, by their cover."
You may wonder how Hannah feels about playing second fiddle to his furry friend. "I don't mind Cole being the center of attention at all," he said with a smile. "I'm just the one with thumbs and ideas."
So, what might compel people like Hannah to volunteer to visit hospice patients?
"Hospice volunteers will tell you that they get much more than they give. They delight in visiting patients, hearing their stories and making their days a little more special, " explained Mullan. "They so much enjoy having pet visits. It really makes their days brighter." Certified Pet Therapy volunteers, like Chris and Cole, provide patients with so much love and joy. Many of these patients have lost their own pets or had to give them up when they moved into a healthcare facility, so this pet connection really fills a void.
For more information on volunteering for Angelic Health Hospice, call 609-515-3041, email Volunteer@Angelic.health, or visit the volunteer services section at www.Angelic.health.