Angelic Hospice Care Volunteering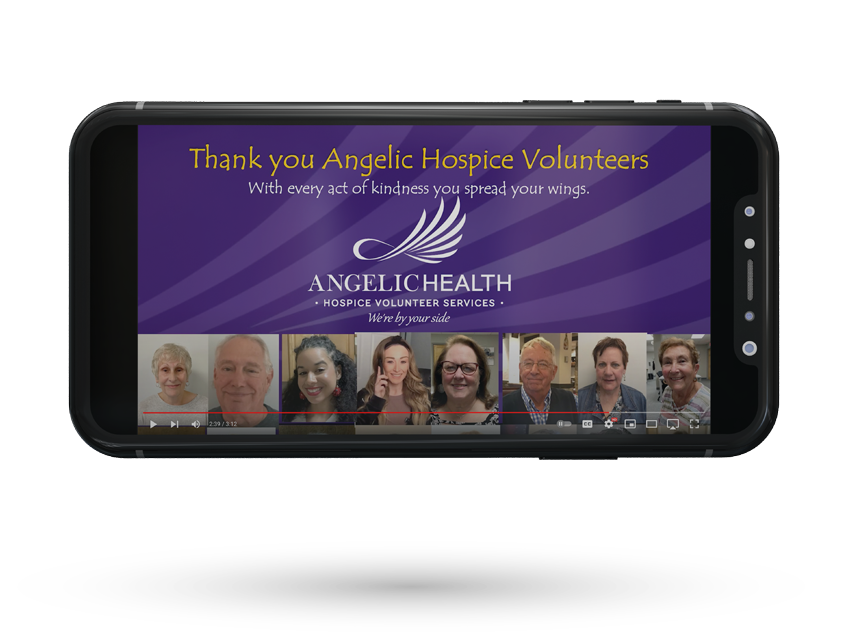 Volunteer
For as little as an hour or two a month you can make a difference to a hospice patient in your community. Share your interests and talents or lend a listening ear to someone who simply enjoys your company. A gift of your time and compassion to those on their final journey can mean so very much to these patients and their loved ones. Your volunteer service will fit your schedule and interests, and visit assignments are your choice.
For the convenience training is provided online. Volunteer visitors must be 18 years of age. Younger volunteers (a minimum of 16 years old) can only visit patients if they do so with an adult volunteer. Parents are encouraged to train with their teens for this shared life-experience. Those as young as 16 can volunteer as office support.
Military Veterans are encouraged to become a Vet to Vet Volunteer and visit other Veterans on hospice service. Those who have shared a common military bond is a great benefit to these patients.
Fill out our online Volunteer Application and a volunteer coordinator will get back to you shortly.
Please download and fill out the volunteer application and email it to Volunteer@angelic.health, or mail it to the office where you wish to volunteer.
Volunteer activities can include:
Reading, playing music, card games, or crafts activities.
Listening to and documenting their memories for a life or memory journal.
Staying with patients to give family members a break to run errands or take care of their own needs.
Certified Pet Visitors for pet lovers.
Keeping vigil with patients in their final hours.
Bereavement and grief support of family.
Office support to assist with administrative duties in our offices.
Vet to Vet visits for our Military Veterans.
New Jersey
Atlantic, Cape May, and Cumberland counties
Please send to:
Angelic Hospice Volunteer Services
8025 Black Horse Pike, Ste 501
West Atlantic City, NJ 08232

Burlington, Camden, Gloucester, and Salem counties
Please send to:
Angelic Hospice Volunteer Services
1050 Mantua Pike, First Floor
Wenonah, NJ 08090

Monmouth and Ocean counties
Please send to:
Angelic Hospice Volunteer Services
74-80 Brick Blvd, Building 1, Suite 201
Brick, NJ 08723
Pennsylvania
Bucks, Chester, Delaware, Montgomery, and Philadelphia counties
Please send to:
Angelic Hospice Volunteer Services
486 Norristown Road, Suite 133
Blue Bell, PA 19422
South Carolina
Dillon, Florence, Georgetown, Horry, Marion, and Williamsburg counties
Please send to:
Angelic Hospice Volunteer Services
923 Medical Center Circle,
Myrtle Beach, SC 29572

Call Us or Click Here to schedule your consultation.
Angelic Health's Partners and Affiliations
Angelic Health provides Palliative, Transitional, Hospice Care, TeleHealth services, and is proudly accredited by the Accreditation Commission for Health Care (ACHC). ACHC accreditation reflects our dedication and commitment to meeting standards that demonstrate a higher level of performance and patient care. We are also a member of the National Hospice and Palliative Care Organization (NHPCO), the Center to Advance Palliative Care (CAPC), and are privileged to be a hospice partner in the We Honor Veterans initiative.