Angelic Educational Conferences
SAVE THE DATE
Leading Healthcare Innovation
"A conference on topics from recent and trending
developments affecting the future of healthcare"
In 2023 we are offering two FREE Conferences for Healthcare Professionals with 4 CEUs for Social Workers, Case Managers, Licensed Nursing Home Administrators, and Certified Assisted Living Administrators.
Join us for great networking opportunities, and a delicious breakfast and lunch is included. Learn and enjoy yourself. It's an experience you'll look forward to every year.
Fall Conference

Wednesday, October 11th, 2023 - CANCELED

Unfortunately, we must cancel the Fall 2023 Conference and apologize for any inconvenience. We were looking forward to seeing you all again, but please stay tuned for information on the Spring 2024 Conference.
The Angelic Education Academy is supported through a grant from the Angelic Health Foundation, a 501c3 charity. Donations are tax-deductible.
To learn more, or to donate click here .
Angelic Health's Partners and Affiliations
Angelic Health provides Palliative, Transitional, Hospice Care, TeleHealth services, and is proudly accredited by the Accreditation Commission for Health Care (ACHC). ACHC accreditation reflects our dedication and commitment to meeting standards that demonstrate a higher level of performance and patient care. We are also a member of the National Hospice and Palliative Care Organization (NHPCO), the Center to Advance Palliative Care (CAPC), and are privileged to be a hospice partner in the We Honor Veterans initiative.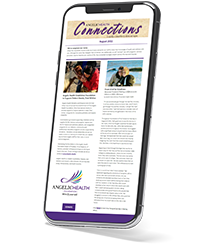 Thank you for visiting
Before you go click here to
on Facebook, and sign up for Angelic Health Connections, our monthly
e-newsletter to get tips and stories on how to deal with life's challenges.